Just in time for Christmas! 3CX v16 Update 4 brings personalized audio options, the new 3CX Chrome Extension and expanded backup targets. Also, Update 4 includes the latest stability and security updates, making 3CX PBX even more robust.
Our clients with our Hosted 3CX Service are already upgraded to this new version so there's nothing more you need to do!
Chrome Extension Simplifies Call Handling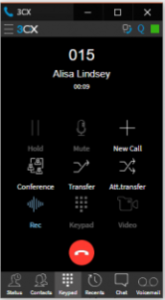 The Chrome Extension is now released on the Chrome Webs Store. The Chrome Extension enables you to:
Get alerts for calls via pop-ups even if the browser windows is minimized or closed.
Click to directly call numbers you find while browsing web pages.
To get this new 3CX Chrome Extension just open the
Chrome Web Store
, search for "3CX" and open to add to your Chrome browser.  Once installed, return to the Web Client and click on "Activate your 3CX Extension for Chrome" to complete the installation.
Personalize Your Audio Experience
The new audio options in 3CX v16 Update 4 allows you to personalize your Web Client and Chrome Extension call experience. Set different devices to the "Speaker" and "Ringer" options, allowing you to hear incoming calls and listen to call audio on separate speakers or headsets.  Just go to 'Settings' > 'Personalize' > 'Audio/Video' to configure your preference.