About Next Wave Communications
We help organizations enjoy reduced costs in telephone, internet and mobile expenses. Since 2002, we have been providing business solutions for database and web design/programming and voice over IP (VoIP) telephony solutions.  In 2020 we rebranded into Next Wave Communications and now focus on implementing VoIP solutions with 3CX.
Our VoIP solutions can slash telephone bills, especially for businesses with multiple locations.  Using our hosted 3CX service customers can have:
a highly sophisticated phone system
modern high-quality desk phones
mobile phone, tablet, and PC voice integration
CRM integration
The ability to host online meetings with ease
chat/call enabled their website integrated with their phone system and computer devices.
Most often, our clients achieve all of this with reduced costs over their existing telco expenses!
In addition, we are an agent for most internet providers and many online service providers and can provide you with quotes for multiple vendors at no additional costs to you.  Avoid the headache of waiting on hold and then listening to the sales pitch of each of the internet providers.  We can give you a menu of providers to choose from that fit your data speed requirements at your location.
All of our implementation team our 3CX Advanced Certified and are experts in 3CX.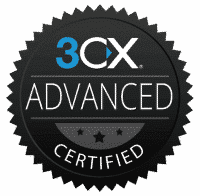 Get a no obligation quote today!